Brookline
I have to admit it, but I'm a little biased towards Brookline, MA — after all, it is my home! I've probably been in more Brookline, MA homes than I can count. But I assure you, there's so much to love about this beautiful town even if you didn't grow up there.
Brookline is considered one of the most treasured and sought after towns in all of Greater Boston, not to mention all of New England. This historic town has some of the most beautifully-crafted, historic, and sought after homes in the Greater Boston Area. And, its proximity to downtown Boston is almost unbeatable for those that desire all the conveniences of traditional neighborhood living.

​​​​​​​Brookline is known for its quiet and family-friendly neighborhoods, its history (many Kennedys have called Brookline home), and community-driven attitude.

Just a few of Brookline's most notable neighborhoods include:


Coolidge Corner
Chestnut Hill
Brookline Village
Washington Square
The Point
Buttonwood Village
Whether you prefer the beautiful brownstones of Beacon Street or the viewpoints from Chestnut Hill, Brookline, MA homes are dynamic and very accommodating. I know I can find you a home in Brookline, MA that you will just fall in love with.

It's hard not to love a special community like Brookline!
​​​​​​​

Welcome to Brookline
Pinos

I've been eating pizza at Pino's in Cleveland Circle for the past 30 years! My dad took me as a kid all the time, then I'd grab a quick slice in high school during lunch (Brookline high is an open campus for all you parents out there). Now I feed my kids some of this delicious pizza, subs, and salads - you know the whole family will be happy when dinner is Pino's. I'm on a first-name basis with all the guys there (hi Nicky!) and everyone there is super friendly. Technically, Pino's is in Brighton (Cleveland Circle is right on the Boston/Brookline line), but I say it's still a selling point for anyone who wants to live in Brookline!

Anna's Taqueria
If you know Brookline at all, you know Anna's Taqueria. This place has been a local icon for decades and is absolutely the spot to go for tacos, burritos, quesadillas, and more. There are a few in the Coolidge Corner area - one on the way towards Washington Square and one towards Allston - as well as more locations in Newton, Somerville and Cambridge. My favorite order: the quesadilla (it's like a burrito, but fried on the griddle until golden brown and crunchy...mmm) with their slow-roasted pork carnitas, fresh guacamole and salsa, and delicious roasted veggies. My boys could eat there every day if I let them!

Brookline Booksmith
This iconic independent bookstore is one of my favorites businesses in Brookline. They've got an amazing selection of books, gifts, and more for all ages. My boys Collin and Preston love wandering the kids' area, while I browse the cookbooks and the magazines and the new books...I can't walk out of there without something! If you're interested in events, they've got lots of book signings and author visits from all sorts of famous writers and personalities. Plus, the staff there is always so friendly and will help you find anything you need. Go visit Coolidge Corner and check it out! You won't be sorry.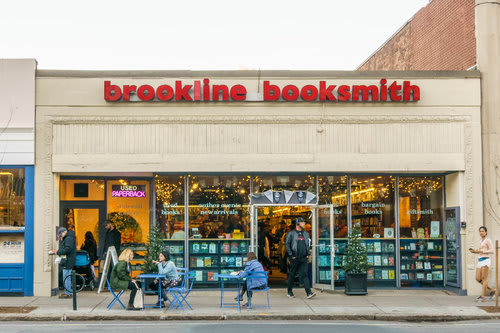 Henry Bears Park
Henry Bears Park in Brookline Village is our go-to spot for birthday presents. They've got gifts for all ages, whether you need a present for a baby shower or a graduation gift for a teenager. Most importantly for my family - they've got tons of Legos, with a Lego table set up for kids to play as Mom shops. So key when you've got errands to run with two boys along. They've got fun events like book readings and they run great activities for kids like a Kindness Bingo. How cool is that! Last but not least, they've got great staff who can always help you find the perfect gift.

Connelly Hardware
Connelly Hardware in Washington Square is the oldest retail store in Brookline! It's family-owned and run, and it's my first stop when I need anything from paint to cleaning supplies. I get my keys copied here (a recurring theme of #realestateagentlife) and it's also a great spot to pick up smoke detectors for all those smoke inspections. The helpful staff there is always ready to advise on a DIY project or upgrade - it's key to have a go-to hardware store after you move into your new home.

Viking Sports Camp
I'm a big fan of this program, whose mission is to 'create an all-inclusive community in which fun through physical activity is recognized as crucial to a well-rounded lifestyle.' If, like me, you've got energetic kids who need a place to run around, the Viking program is perfect. Town soccer in Brookline doesn't start until age 5, so Viking is a great way to get kids started in soccer at a younger age. In the summer, they have camps at the Brookline High School field, and Preston and Collin loved running around all day. They get seriously tuckered out after a full day outside! In a very cool move, Viking now has a store front on Cypress street where they host indoor activities and birthday parties. Smart move in this New England weather...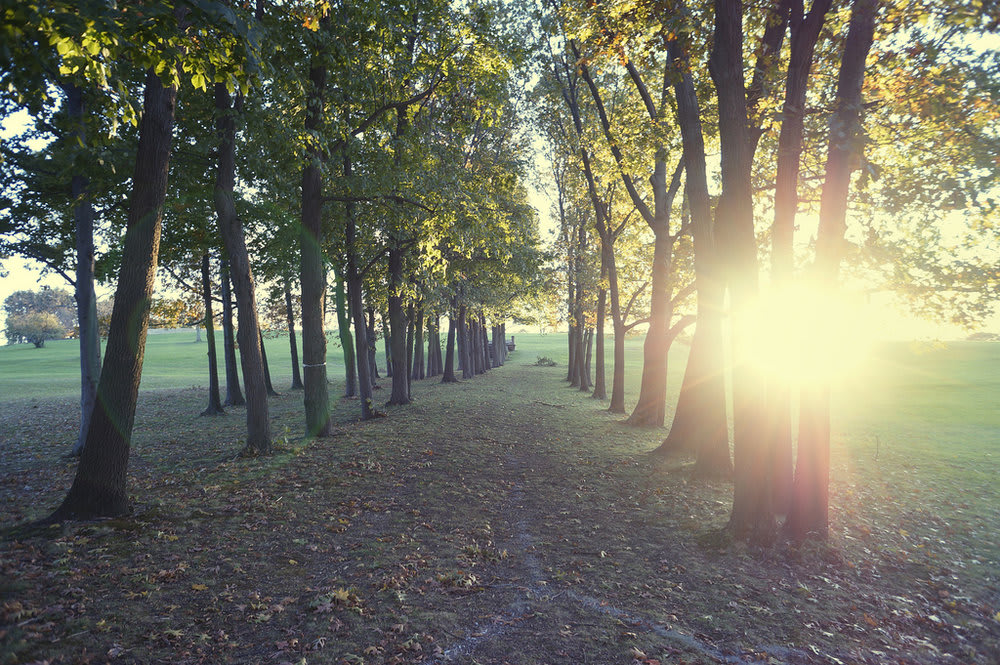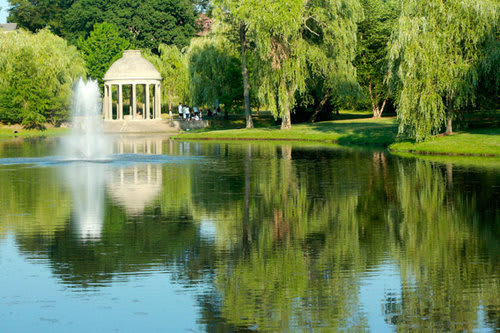 Allandale Farm
Allandale Farm is located just a few blocks from my home, and it's a lovely place to visit. They have house and garden plants in the greenhouses, and a great selection of local food and organic veggies inside the farm shop. Looking for great locally made pasta and artisanal cheeses and fresh baked breads? You have to stop by and see what they have. My friends swear by their awesome CSA program, where you can pick up delicious vegetables every week over the spring and summer. Plus, they're our go-to spot for holiday fun like pumpkins and Christmas trees! And my boys love their hay rides. They're a true neighborhood gem.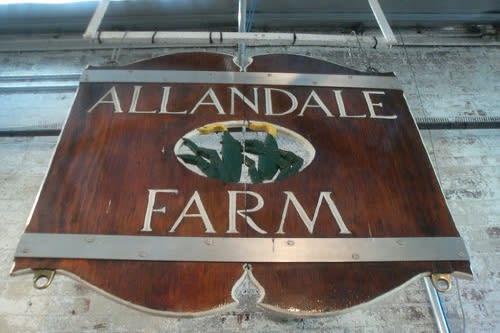 Larz Anderson
Larz Anderson is one of our favorite places in Brookline! The kids play hockey there, and we go sledding there every winter. I even used to run the mile race when I was in elementary school at Lawrence. (Wow, that's a blast from the past:) We celebrated Collin's fourth birthday there, as well as Preston's 9th birthday. It was the perfect spot for a horde of 9-year olds to bounce around with Knocker Balls, and there aren't too many places you can say that about! For those of you interested in cars, the Larz Anderson Auto Museum is home to 'America's Oldest Car Collection!' The museum is located in a beautiful historical museum which is also a great spot for special events.